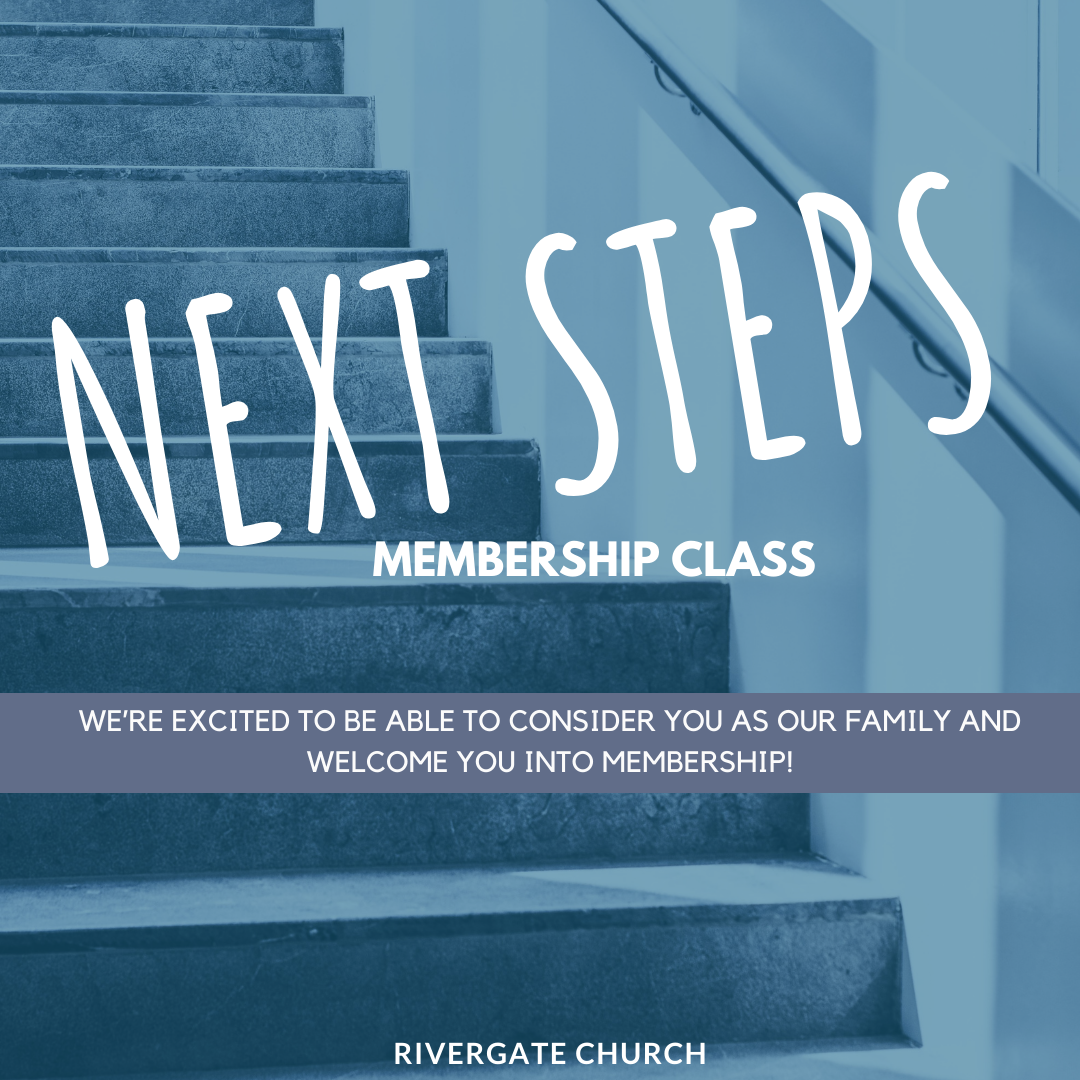 Next Steps (Membership) Class 
Available this Week!
Our 10-minute membership class is available to anyone who wishes to join the church
Sundays, 12:20pm

(following the 10:30am service) in the Prophetic Room

7:45pm, Sunday evenings

(following the 6pm Encounter Service) in the Family Room.

7:45pm, 

Wednesday evenings
No preregistration is needed.
We're excited to be able to consider you as our family and welcome you into membership!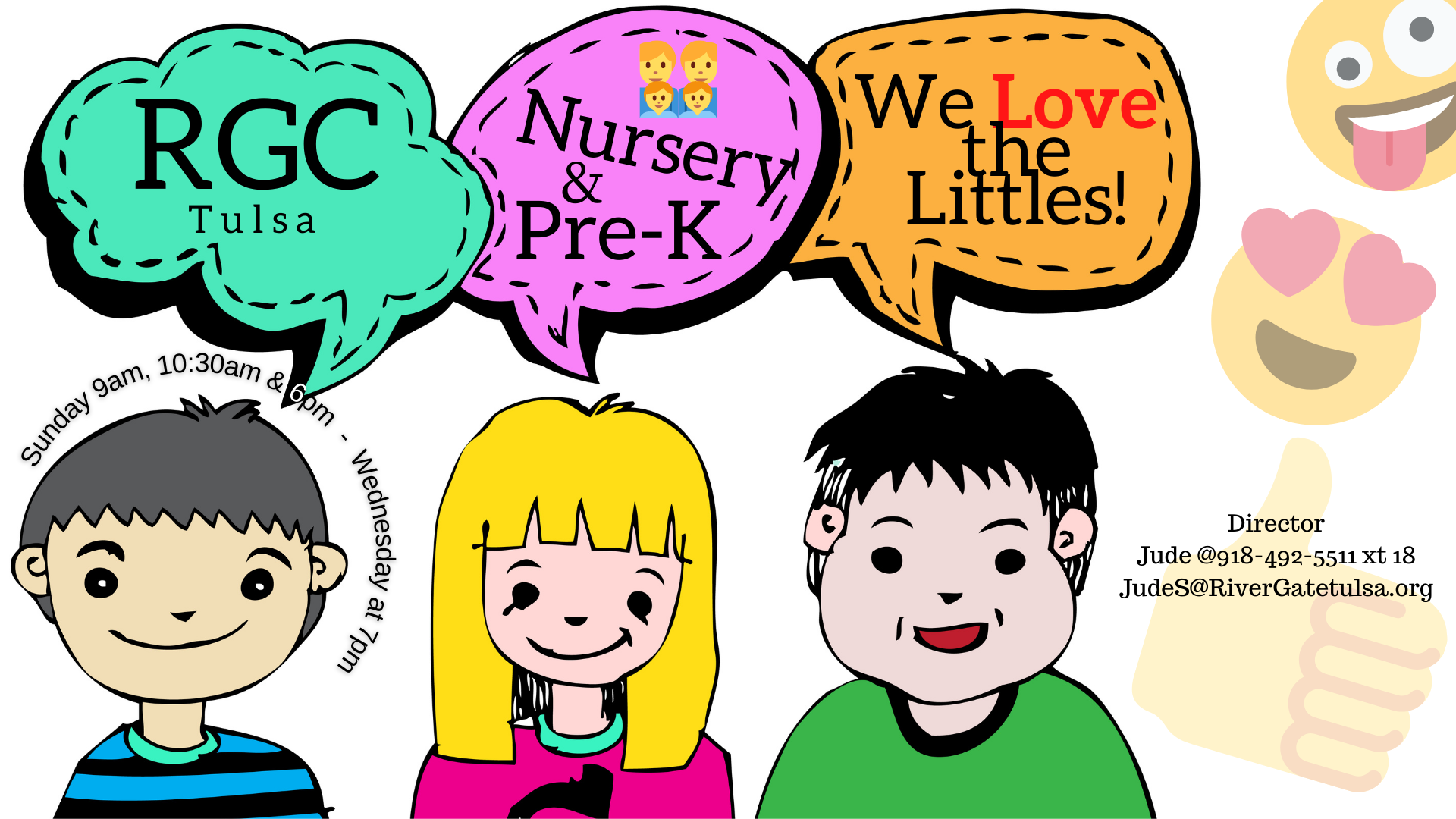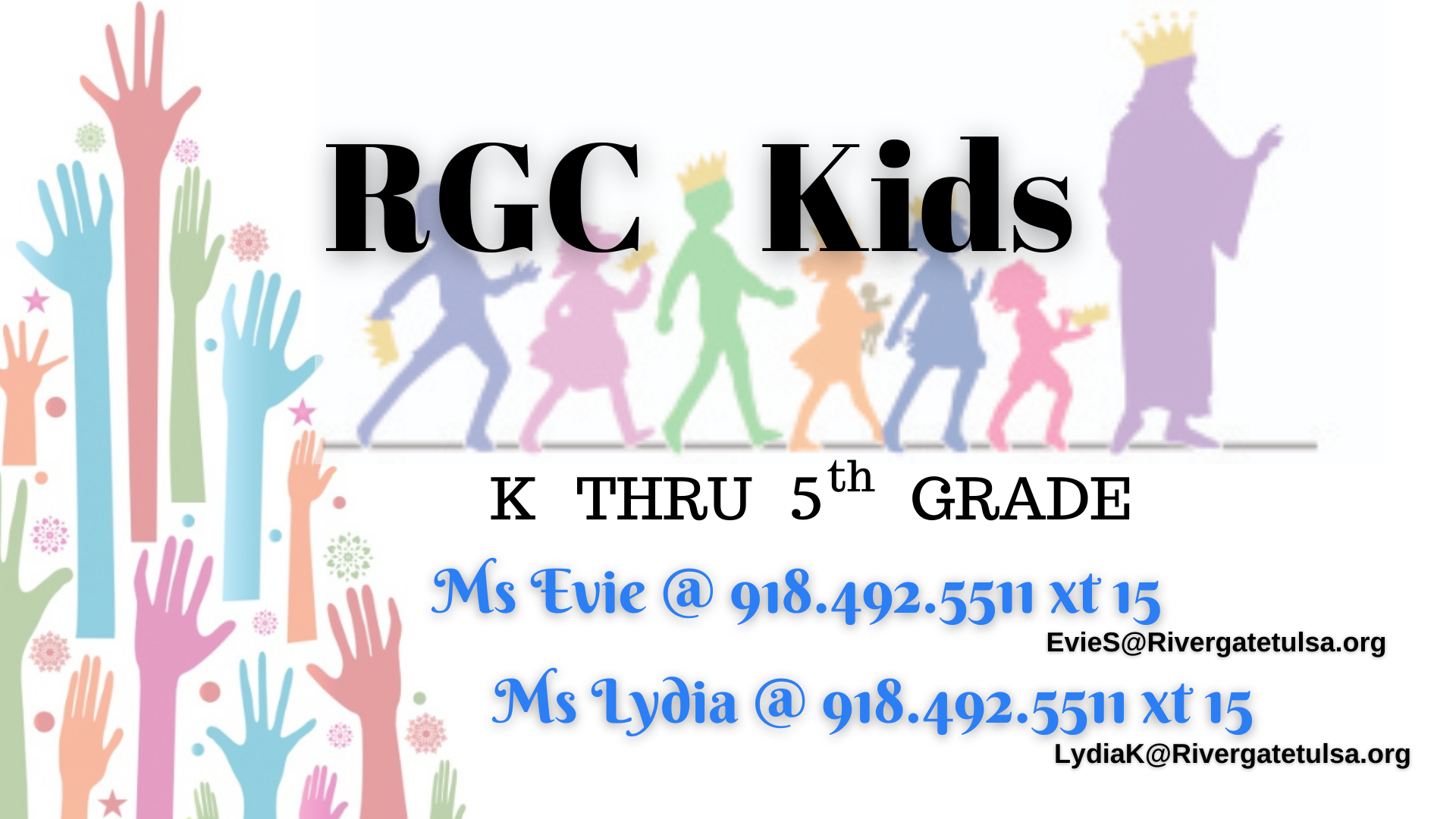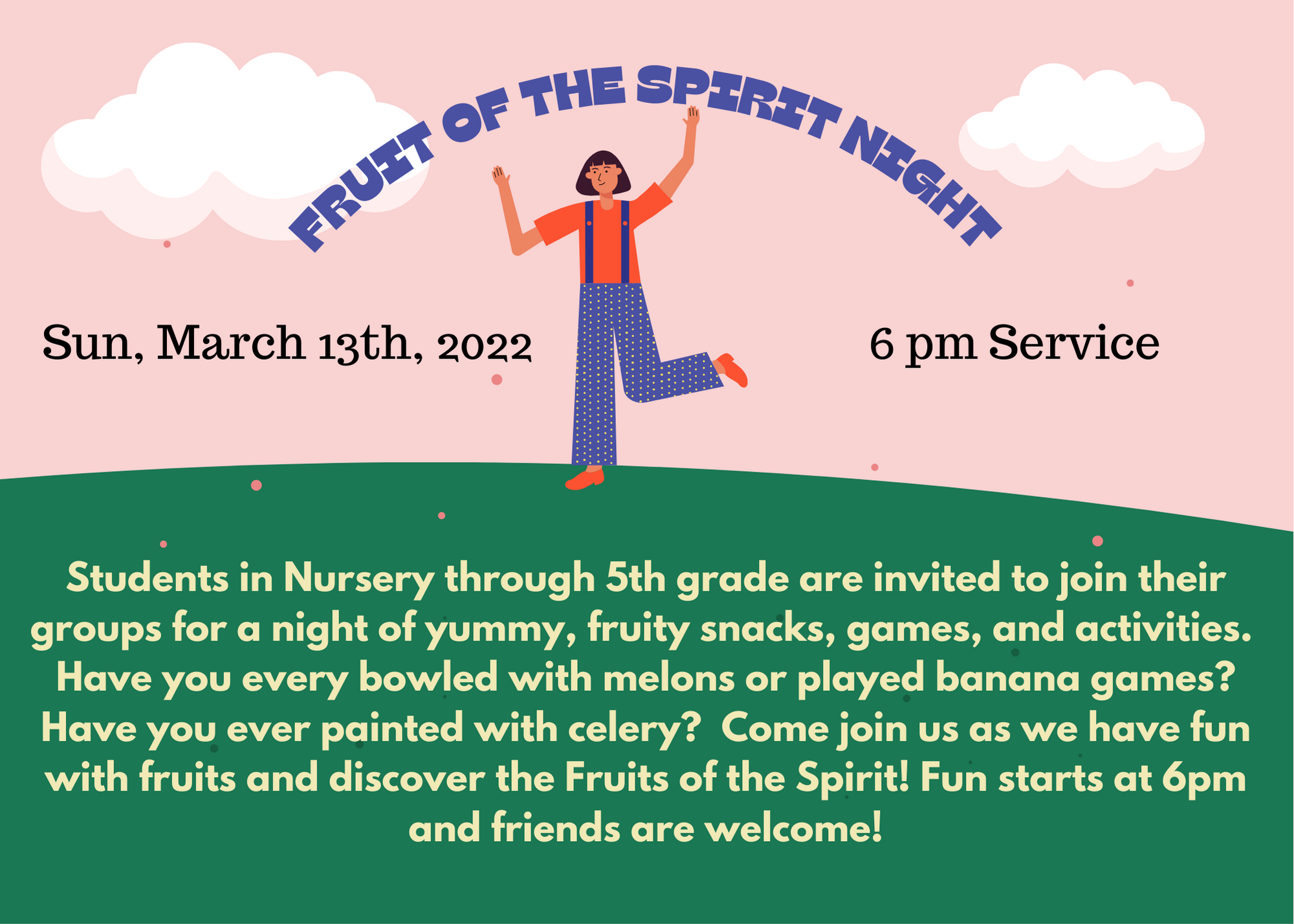 Fruit of the Spirit Night (Sun, March 13th, 2022 – 6pm Service)  
Students in Nursery through 5th grade are invited to join their groups for a night of yummy, fruity snacks, games, and activities.  Have you every bowled with melons or played banana games? Have you ever painted with celery?  Come join us as we have fun with fruits and discover the Fruits of the Spirit! Fun starts at 6pm and friends are welcome!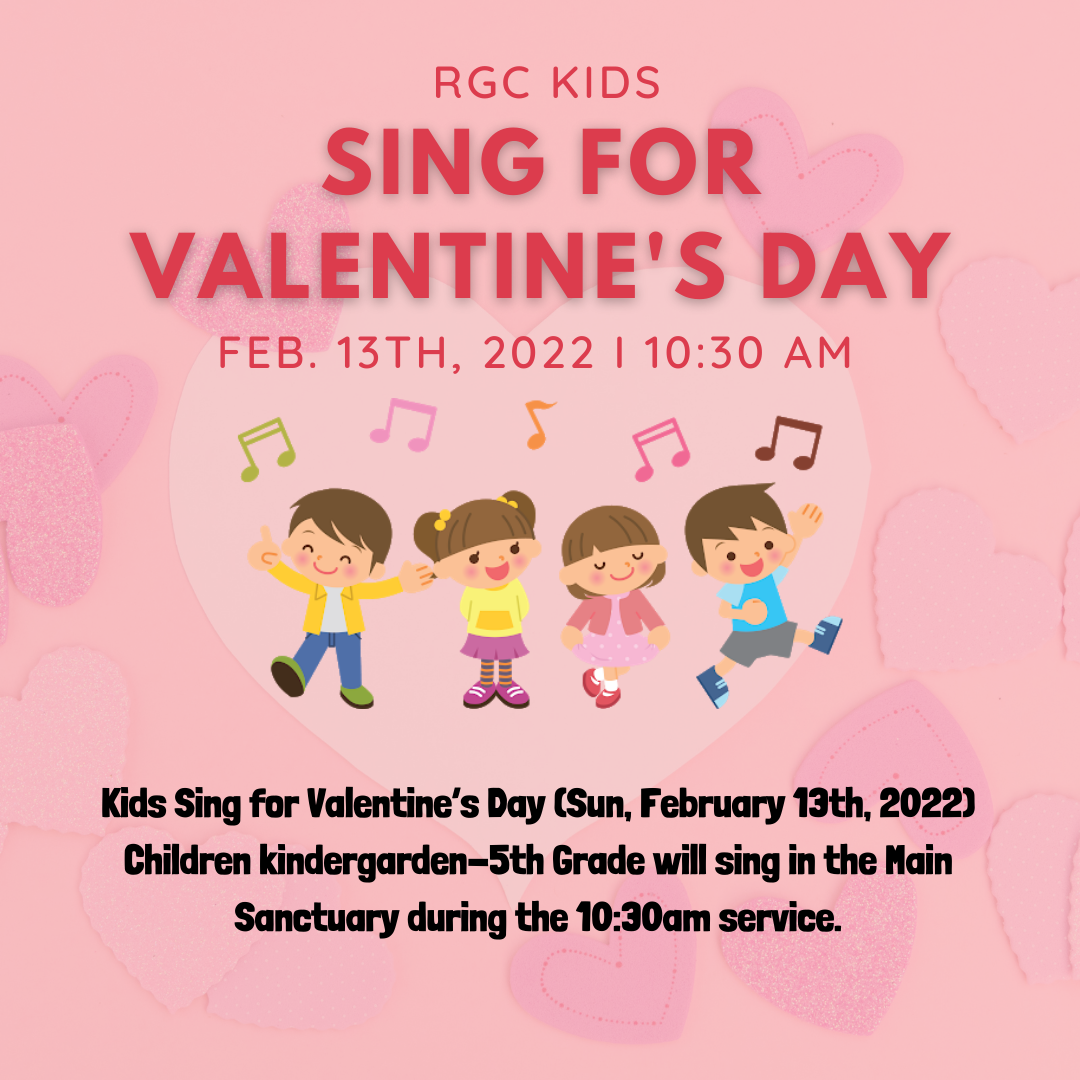 RGC Children's Dept: SING!
Kids Sing for Valentine's Day (Sun, February 13th, 2022)
Children kindergarden-5th Grade will sing in the Main Sanctuary during the 10:30am service.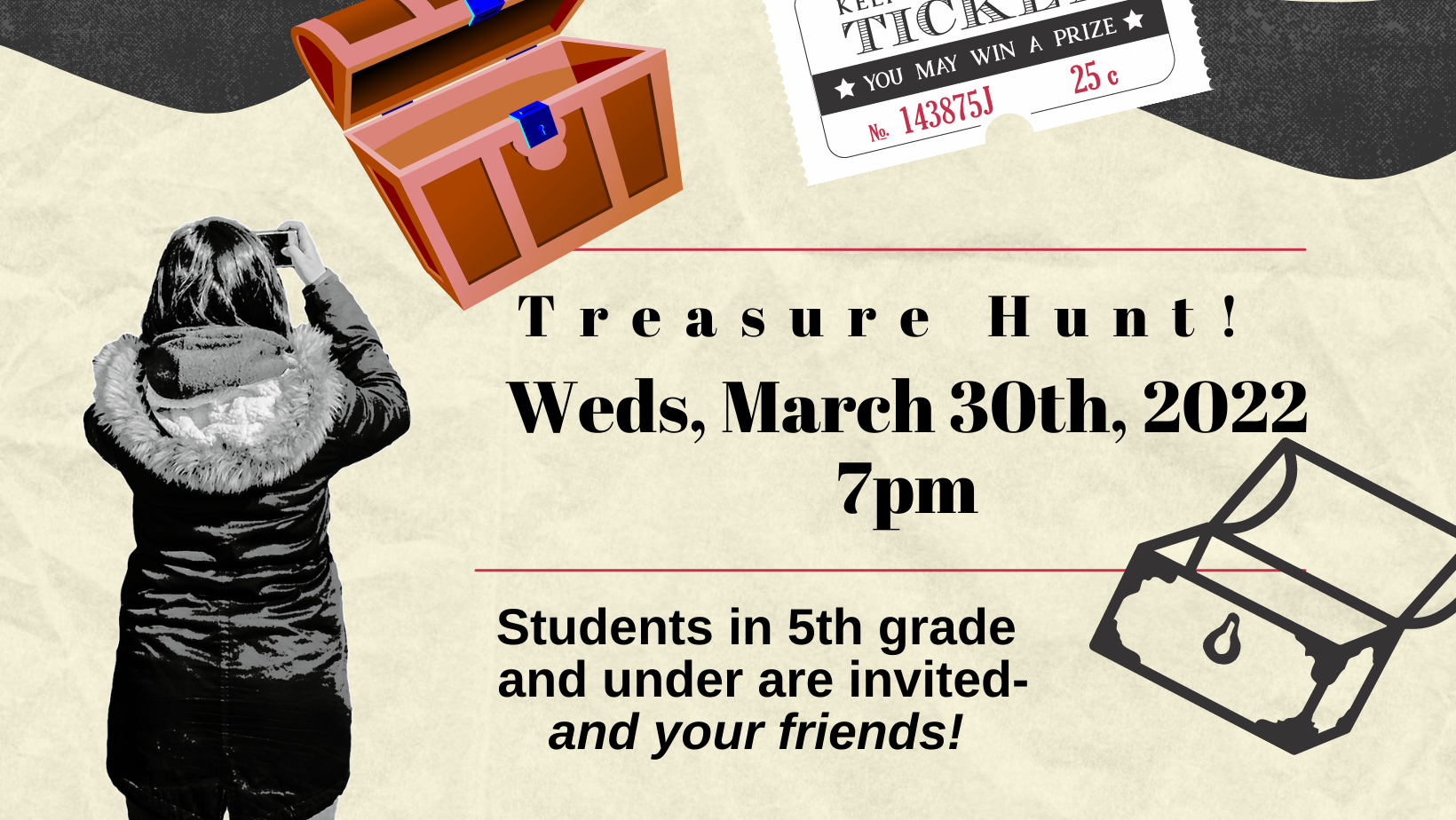 Treasure Hunt
Weds, March 30, 2022
Have you ever wanted to find hidden treasure? The Bible says you can! Students in 5th grade and under are invited to join us as we embark on an epic adventure, searching for lost treasure in our classrooms and learning about the secret treasures of the Kingdom of Heaven as we enjoy special snacks and games.  The fun starts at 7pm and friends are welcome.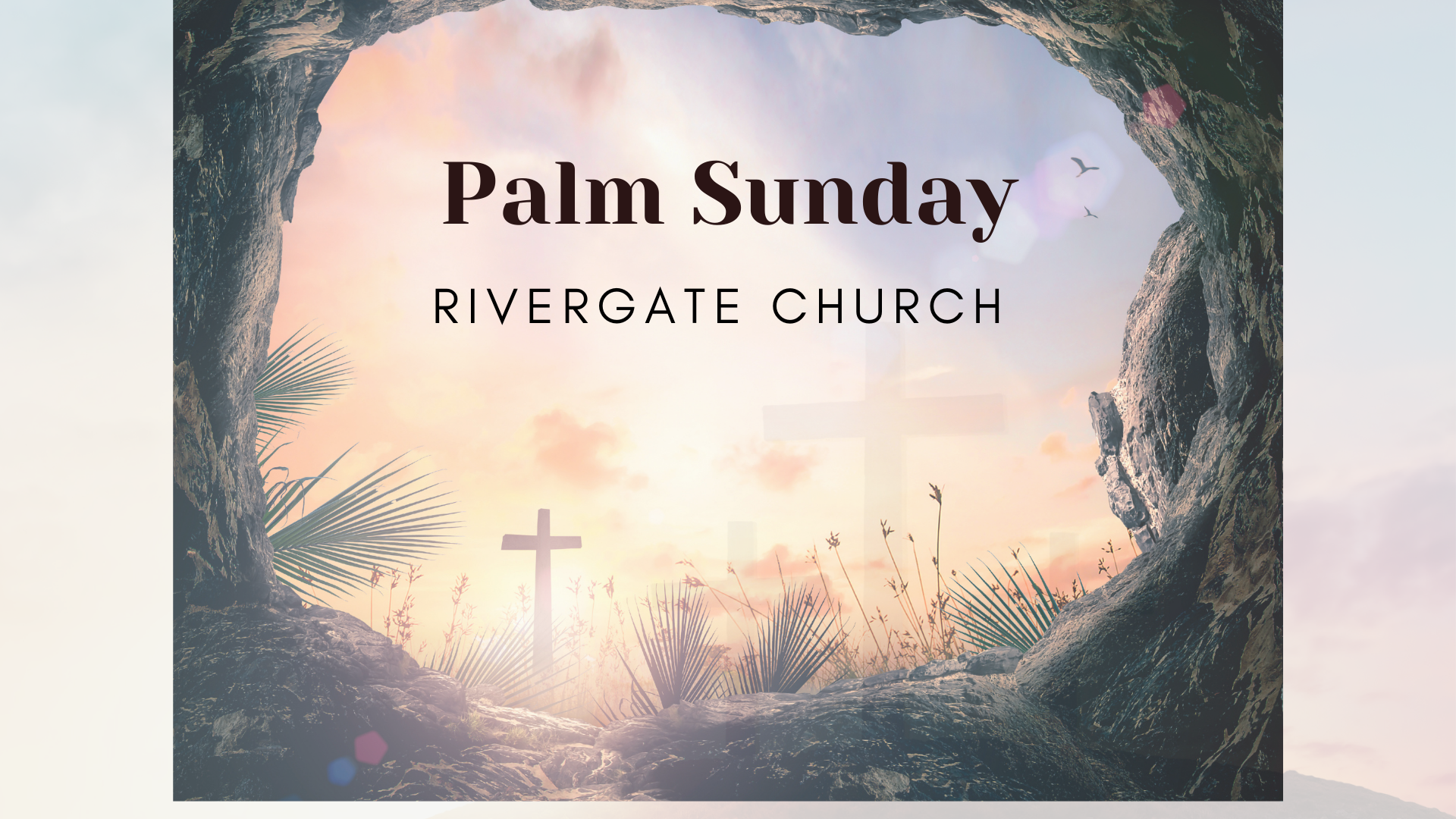 Palm Sunday Easter Re-enactment
April 10th-10:30 am Sunday
K5-5th Grade will re-enact the events of Palm Sunday through the Resurrection, starting with a Palm Sunday Parade. We will also have a semi-accurate Last Supper with foot-washing, as well as a dramatic retelling of the Cruxifiction and Resurrection. Our activities will take place in the 10:30am service,  as always, friends are welcome!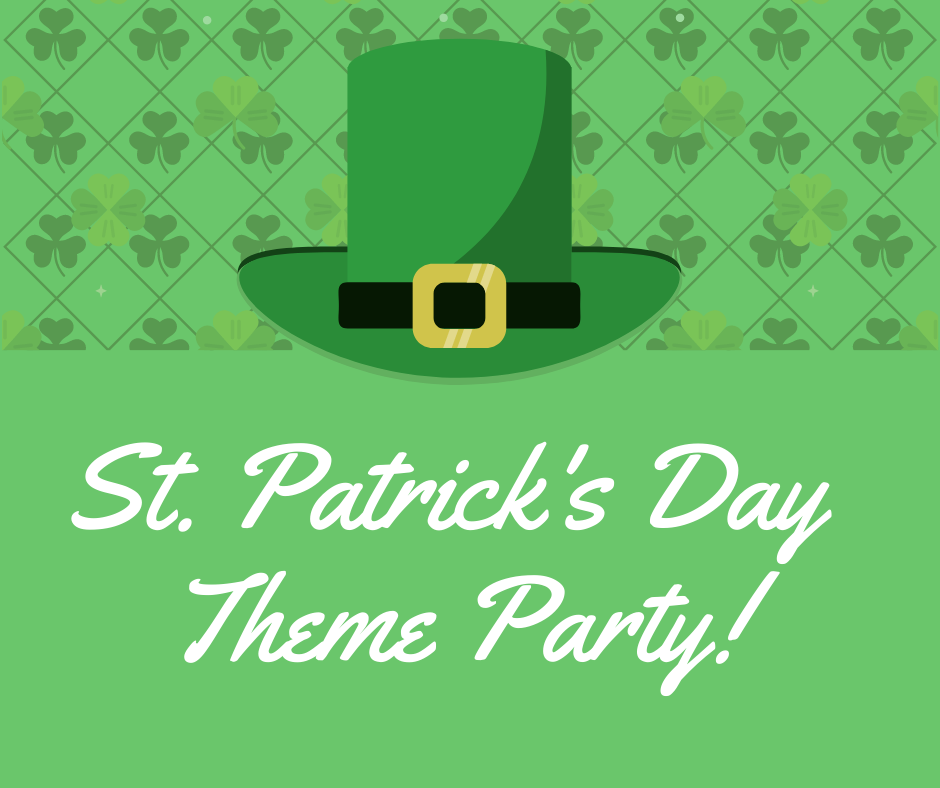 St. Patty's Day Party! (Weds, March 16, 2022) 
Children in grades 5 and younger are welcome to join us beginning at 7pm for a night of fun! We will celebrate Saint Patrick's Day with an evening of green FUN, including green snacks, green games, and green crafts! Dress up in as much green as possible. We will learn about who St. Patrick was, and why we celebrate!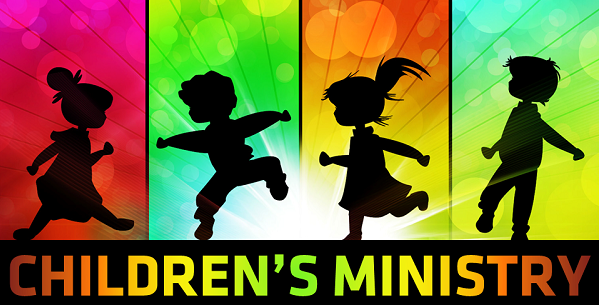 RGC Children's Dept: Kids Singing for Mother's Day (Sun, May 8th, 2022 – 10:30am service)
RGC Children's Dept: Desert Desserts Night! (Sunday, May 29th, 2022)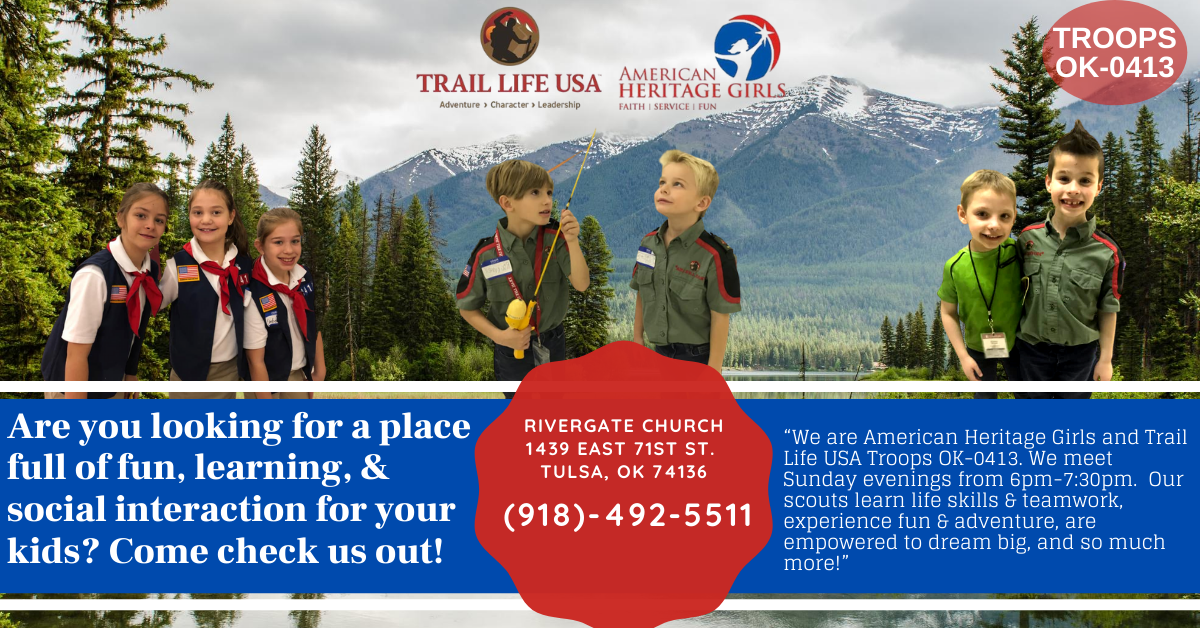 American Heritage Girls & Trail Life USA Troops (OK 0413)
American Heritage Girls & Trail Life Update: 
If you are looking for a scouting program for your elementary students (grades K-5th), come check us out.  For more info, please contact Pastor Cristin Hamman at cristinh@rivergatetulsa.org or 918-492-5511×11. OK Troops 0413 meet every Sun night at 6pm.
Mar 5th – TL at Whistler Auto Repair
Mar 13th – No Troop Mtg (come to RGC KiDs!)
Mar 19th – AHG Mother/Grandmother & Daughter Tea
April 3rd & 10th – AHG Bake Sale
April 17th – No Troop Mtg (Happy Easter!)
Apr 29th – May 1st – National TL Campout
May 8th – No Troop Mtg (Happy Mother's Day!)
May 22nd – AHG/TL Awards Ceremony
May 29th – No Troop Mtg (Memorial Day Weekend)
 AHG/TL Spring 2022 Badge Ceremony – Sunday, May 22nd, 2022
All scouts and parents are invited to join us on Sunday, May 22nd, 2022 at RiverGate Church. Scouts will perform an Opening Ceremony for the parents and will be presented with the badges they have earned since Spring 2022. Grandparents & family members are welcome and are invited to stay the event! Scouts must be in Class A uniform to participate in this event. For questions, please contact Heather Cain at 918-492-5511 or troops0413@rivergatetulsa.org. Children's ministry is provided for younger siblings/children.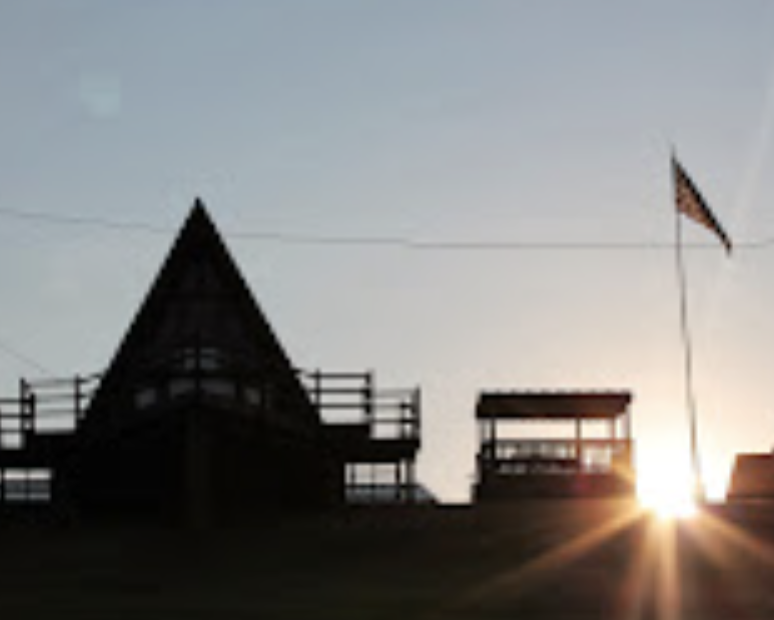 RGC IS GOING TO CAMP THIS SUMMER!  
It's time again for swimming, hiking, nature, and more of Jesus! We are teaming up with Shepherd's Fold Ranch to give all our students an amazing opportunity to grow closer to God while enjoying all that he created. RGC week for all age groups will be June 19-25, 2022. There will be day camp and overnights available, as well as scholarships available. Everything you need is online at http://www.shepherdsfoldranch.com, including applications and any information you may need. We also will be having a representative from SFR coming during the morning services on Sunday, March 27, to answer any questions you may have concerning SFR.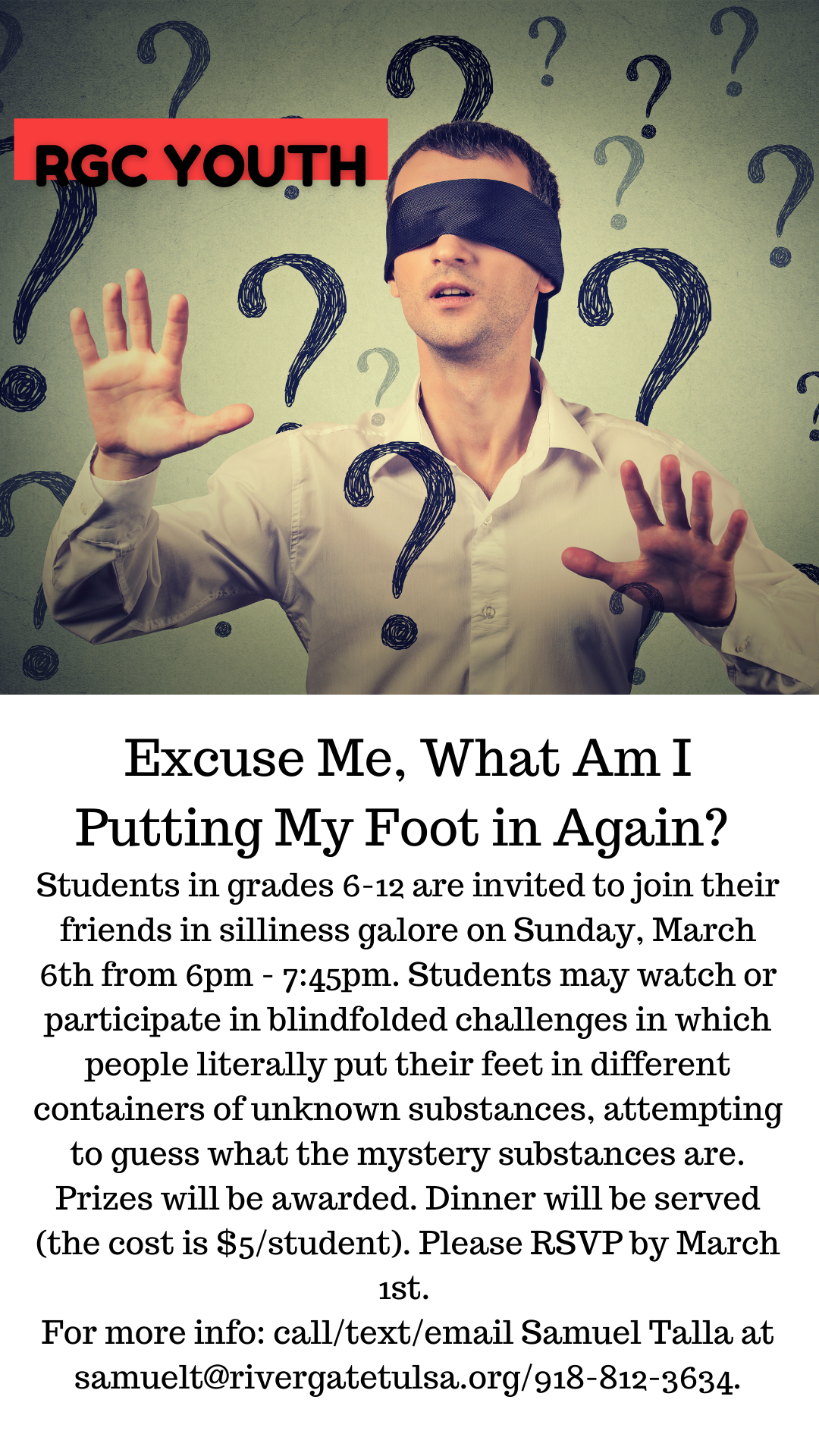 Students in grades 6-12 are invited to join their friends in silliness galore on Sunday, March 6th from 6pm – 7:45pm. Students may watch or participate in blindfolded challenges in which people literally put their feet in different containers of unknown substances, attempting to guess what the mystery substances are. Prizes will be awarded. Dinner will be served (the cost is $5/student).  Please RSVP by March 1st. For more info: call/text/email Samuel Talla at samuelt@rivergatetulsa.org/918-812-3634.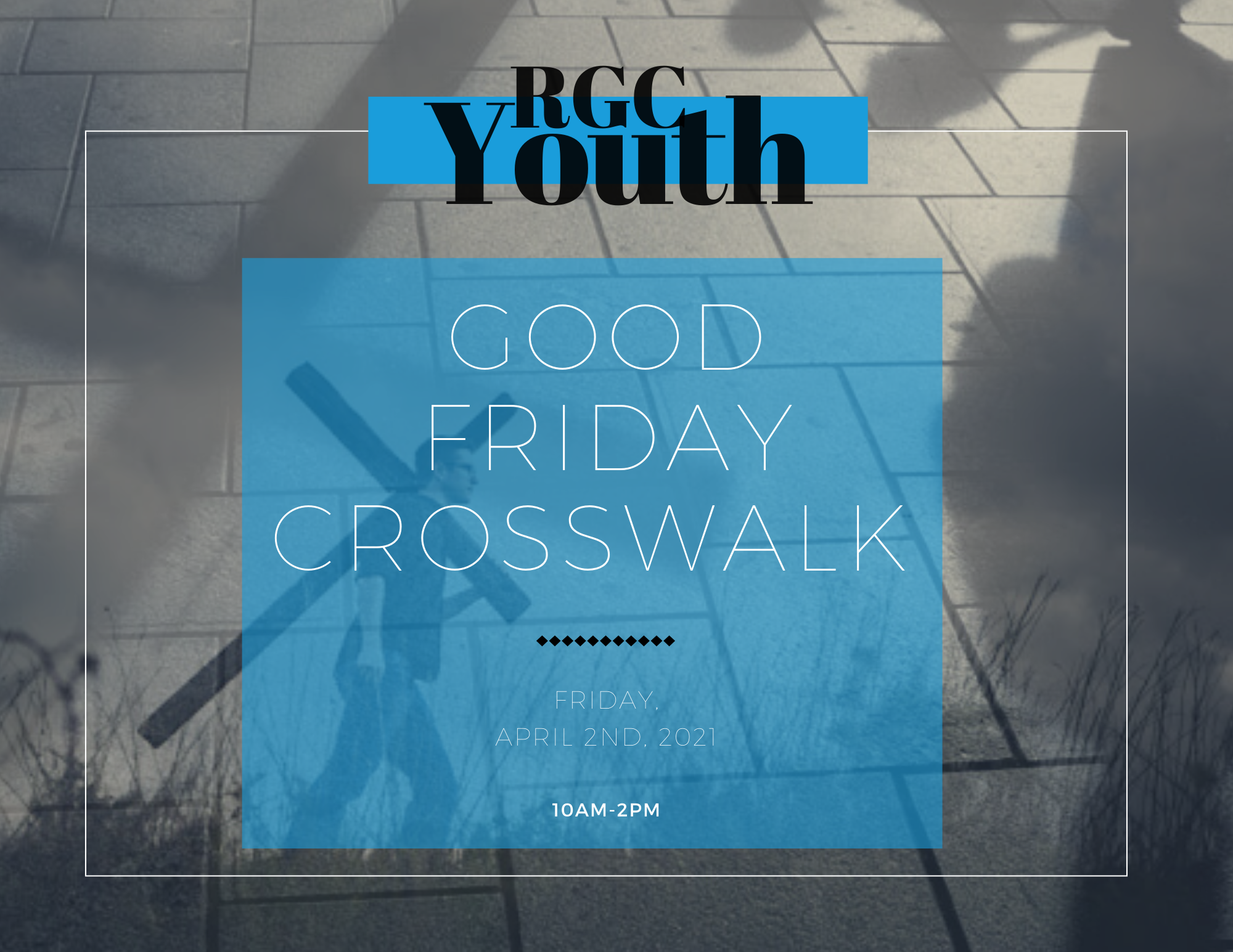 Good Friday CrossWalk (Fri, April 15th, 2022)
RGC Youth Students (grades 6-12) are invited to participate in our annual Good Friday outreach as we make a statement to the city of Tulsa without saying much at all. Starting at 71st & Memorial, we'll carry a large wooden cross all the way to the church (71st & Riverside) along 71st Street, commemorating what Jesus did for us. Students should come dressed for any weather (don't forget good tennis shoes and sunscreen) and should bring cash to stop for lunch and ice cream. Drop off time is 10am at 71st & Memorial (meet in the parking lot between DXL Clothing & the former Toys-R-Us on the NW corner of the intersection) and pick-up is at 2pm at RGC. Questions? Please contact Samuel Talla at 918-812-3634 or samuelt@rivergatetulsa.org.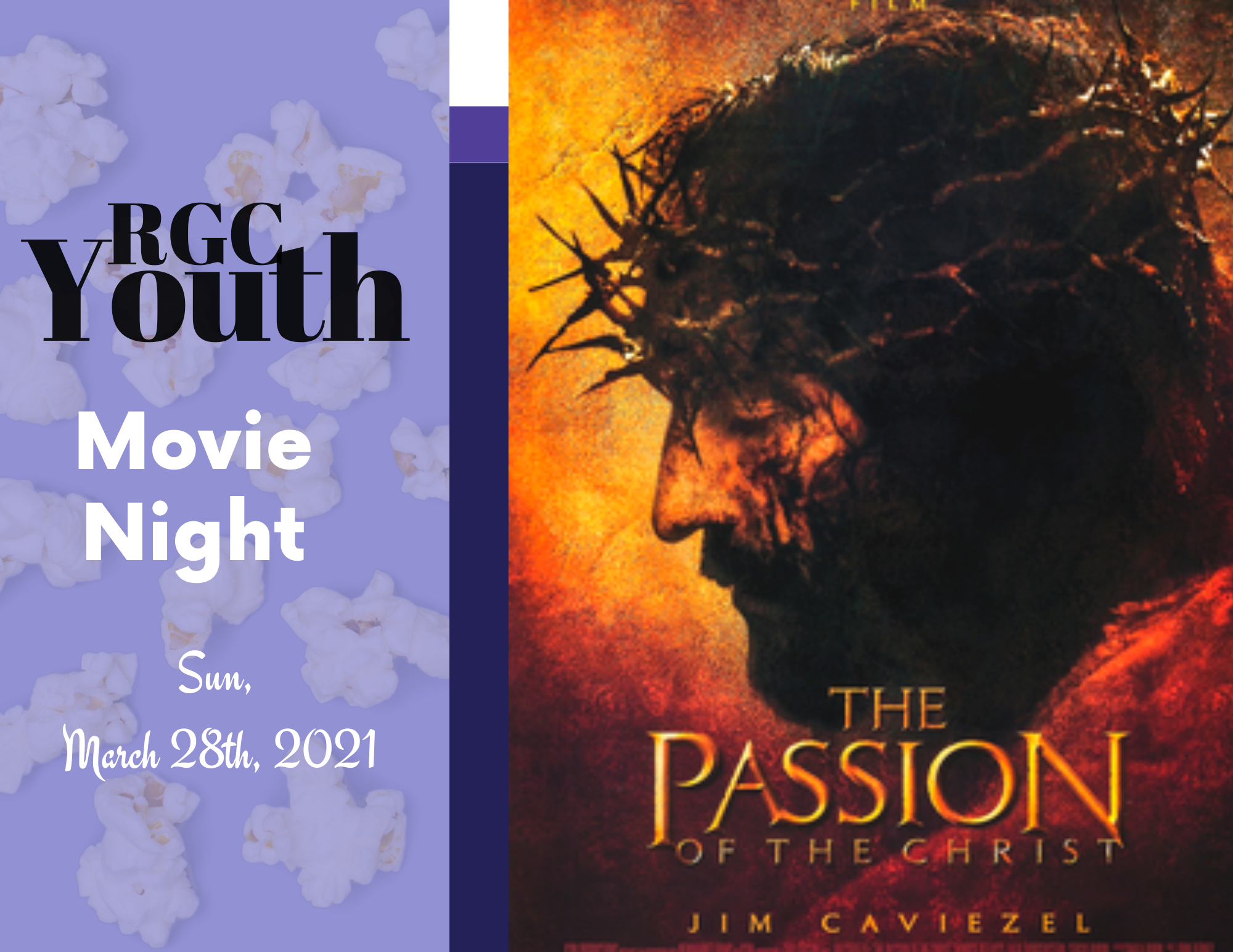 Passion of the Christ Movie Night (Sun, April 10th, 2022) 
As we prepare to carry the cross across Tulsa in our annual Good Friday CrossWalk, and as we prepare to celebrate Easter, let us be reminded of why we walk and why we celebrate.  On Sunday evening, March 10th, in the 6pm service, RGC Youth Students will watch Mel Gibson's The Passion of the Christ.  Because this movie is rated R, students will need to have signed permission slips from their parents/guardians to be able to view it.  We will have snacks (and tissues) on hand.  Questions? Please chat with Samuel Talla at 918-812-3634 or samuelt@rivergatetulsa.org.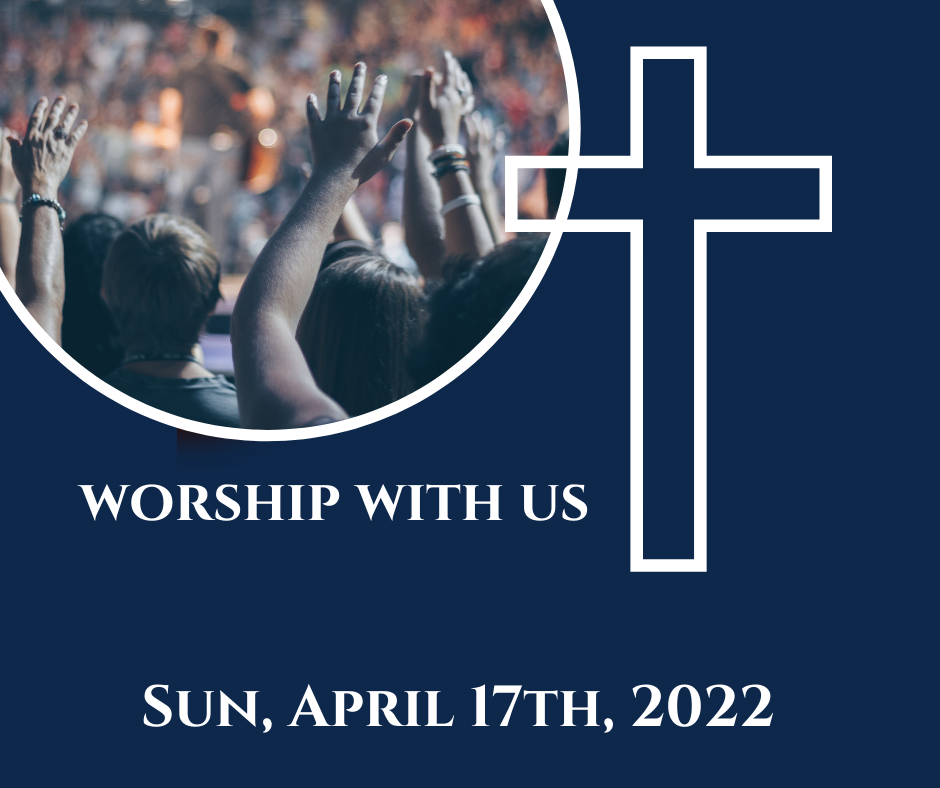 Easter Family Worship (Sun, April 17th, 2022) 
Students in grades Kindergarten and higher will attend worship in the main service with their families for this momentous day.  Following the kids singing for Easter, students will be dismissed to attend their regular services.

RGC Youth: Honoring the 2022 Senior Class (Sunday, May 15th, 2022)